Pulmonary Balloon Angioplasty for Medical Professionals
Mayo Clinic cardiologists, Robert Frantz, M.D., and Gurpreet Sandhu, M.D., discuss the use of pulmonary balloon angioplasty for treatment of chronic thromboembolic pulmonary hypertension. Visit here for more information on chronic thromboembolic pulmonary hypertension, pulmonary balloon angioplasty, or to request an appointment.


Chronic thromboembolic pulmonary hypertension is a condition where blood clots travel to the lungs and are not resolved with the use of blood thinners after several months.  Traditional treatment includes open thromboendarterectomy, however for some patients, balloon pulmonary angioplasty is the preferred treatment option.  


Video Content Outline:
Introduction
What is chronic thromboembolic pulmonary hypertension? (0:32)
Treatment for chronic thromboembolic pulmonary hypertension (1:07)
Case Study (1:27)
Conclusion (10:23)
Related Presenters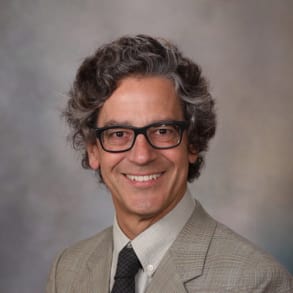 Heart Transplant Program
Transplant Center
Cardiovascular Medicine